Rattan outdoor furniture
Written by Henry Phan
Update

Rattan outdoor furniture is increasingly becoming more popular in every home due to its numerous advantages. This item is also known for its comfort, durability, and aesthetics. Moreover, outdoor rattan furniture also brings the beauty of nature and aesthetics into outdoor spaces, creating an inviting and relaxing ambiance. In this article, Rowabi interiorshas introduced to you some best rattan furniture outdoors in 2023.
What's rattan?
Rattan is a type of climbing palm that is used in the production of outdoor furniture. The vines of this palm are cropped in and then processed to create durable furniture pieces. There are 600 species of rattan in the world and it is one of the fastest growing natural materials. It is known for its versatility and durability which can be woven into many different things.

Rattan is a type of climbing palm that is one of the fastest-growing natural materials
Rattan is a natural and versatile material that has been used for centuries in furniture making, both indoor and outdoor furniture. Rattan is also an ideal material for creating comfortable and stylish furniture for your outdoor space. Furthermore, rattan has a natural beauty that can easily blend into any outdoor setting, whether it is a patio, garden, or balcony.
In addition, rattan is also an environmentally friendly material. Compared to furniture made from plastic or other synthetic materials, it is a natural, renewable, and sustainable resource.
The advantages of rattan outdoor furniture
Outdoor rattan furniture is a popular choice for all homeowners. Is rattan good for outdoor furniture? The answer is yes. It is known for its natural beauty, versatility, and durability.
Additionally, rattan provides comfort and requires low maintenance. Here are some of the benefits of this wonderful outdoor furniture:
Durability: One of the best advantages of rattan furniture is its durability. Unlike other materials that may damage or fade over time, rattan still maintains its quality and beauty. It is also known to be long-lasting and resistant to wear and tear, making it a reliable choice for outdoor furniture.
Weather Resistance: Can you leave rattan furniture outside? Rattan is weather-resistant so it is perfect for outdoor use. It can withstand all weather conditions such as sun, rain, humidity, extreme cold, or hot weather without losing the beauty of form. Especially, it will not warp or fade over time when accessing hard weather conditions.
Lightweight: Rattan furniture is also a lightweight material. So you can move and rearrange this item in your outdoor space with ease. This is especially convenient if you want to change the layout or move your furniture. Despite being light in weight, outdoor rattan furniture is still sturdy and can provide the necessary functionality and stability.
Aesthetic Appeal: Rattan outdoor furniture adds a touch of luxury to any outdoor space thanks to its natural and timeless aesthetic. Whether you want a traditional or modern style, rattan furniture can blend perfectly with different outdoor decoration themes and create an attractive atmosphere.
Comfort: Rattan furniture for the outdoors is designed to be comfortable and cozy. It is often paired with soft cushions and upholstery while providing an overall relaxation factor. Additionally, the natural flexibility of rattan also allows it to provide comfort and peace as you enjoy the outdoors.
Low Maintenance: Another benefit of outdoor rattan furniture is its low maintenance requirements. Unlike wooden materials that may require frequent sealing or polishing, rattan furniture only requires occasional cleaning with mild soap, warm water, and dry cloth. Therefore, you will not have to spend too much time or energy cleaning.

Outdoor rattan furniture is known for its durability, weather resistance, lightweight and low maintenance
Design style of rattan outdoor furniture
Rattan outdoor furniture has gained immense popularity in recent years for its combination of ease, durability, comfort, and appealing aesthetics. Here are some key highlights in the design style of rattan furniture that you can refer to:
Natural Materials
Rattan furniture is woven from natural materials such as rattan vine, which is known for its strength, durability, and flexibility. It also adds an organic touch to the outdoor space and blends in perfectly with its surroundings.

Rattan furniture is woven from natural materials that add an organic touch to the outdoor space
Neutral Color Palette
Rattan furniture often has a neutral color palette that easily coordinates with many different items, making your living space more attractive. The main tones of outdoor rattan furniture are beige, cream, and brown. Thus, it enhances the natural aesthetics of the space and creates a warm exterior decor for your home.

Rattan furniture often has a neutral color palette  such as beige, cream, and brown
3.3 Comfortable Cushions
Another important aspect of rattan outdoor furniture design is the presence of comfortable cushions. These cushions are often made from weather-resistant fabrics that can withstand the elements. Furthermore, adding cushions not only enhances the sitting experience but also brings a highlight to the overall look.

Rattan outdoor furniture often features comfortable cushions
Mix and Match
Rattan outdoor furniture can be combined with different equipment to create a unique and personal outdoor space. From sofas, couches, and coffee tables to dining sets, there is a wide selection of rattan furniture that you can choose from.
This versatility allows homeowners to create an engaging and cohesive outdoor dining or seating area that suits their individual preferences.

Rattan outdoor furniture can be combined with various items to make your house more wonderful
When coordinating bamboo and rattan furniture, color matching is essential because if chosen correctly, your outdoor living space will look harmonious.
For example, if you have rattan furniture for a garden just like dark and light-colored furniture, you can mix and match them to create contrast. If you want to completely relax your eyes, mixing and matching neutral colors among outdoor rattan furniture may be a good choice.
Rounded Shapes
Compared to angular designs, rattan outdoor furniture often outstands rounded shapes, which creates a softer and more aesthetic. Additionally, the smooth curves and rounded edges of these items also contribute to a comfortable and relaxed atmosphere, making rattan furniture a great choice for outdoor lounging and entertaining.

Rattan outdoor furniture often outstands rounded shapes, which creates a soft and peaceful aesthetic for space
9+ best rattan outdoor furniture for home
Overall, rattan furniture outdoors not only adds a touch of luxury to your home but also brings comfort, which is why rattan has become more popular in many homes.
Whether you have a small or spacious space, rattan furniture is perfect. Here are the 9 best outdoor rattan furniture pieces that will transform your outdoor area into a stylish and inviting sanctuary:
Rattan Dining Set
The rattan dining table set is a great rattan furniture set for any outdoor space. If your family regularly organizes dinner parties or simply likes to eat outdoors, the bamboo and rattan dining set will create a cozy space. In particular, this set is very diverse in size and style so you can choose a dining table set that fits your outdoor space perfectly.

Rattan Dining Set will create a cozy space for every family
Rattan Sofa Set
If you like to relax outdoors, you should not miss the rattan sofa set. Whether you just want to sit back and enjoy the sun or enjoy some rest, the rattan sofa set will bring you comfort and style. Furthermore, if you often welcome guests, placing a sofa outdoors will make your home more attractive and create a good impression on them.

The Rattan Sofa Set will bring you comfort and style when you enjoy your relaxing time
Rattan Lounge Chairs
Rattan loungers are the perfect choice for those who enjoy spending time basking in the sun, in the garden, or by the pool. With comfortable cushions and ergonomic design, the rattan chaise lounge will provide the ultimate relaxation experience for you. Whether you prefer a traditional, classic, or modern couch, this item is the perfect piece for any seating space.

Rattan Lounge Chairs are the best option for homeowners who like soaking up the sun
Rattan Daybed
Rattan daybed is a type of outdoor furniture that is great for sunny days, especially some with retractable roofs to keep you cool in the shade. This rattan bed is sure to take your outdoor relaxation to the next level. With its spacious design and soft mattress, the rattan bed will create a cozy and comfortable atmosphere for your outdoor space.

Rattan daybed is a great option for sunny days
Rattan Coffee Table
If you want a space to enjoy coffee time, complete your outdoor space with a rattan coffee table. This functional and stylish piece will tie your outdoor space together. Whether you use it to hold drinks or as a centerpiece, a rattan coffee table is a great choice.

Rattan Coffee Table will help you to have a wonderful coffee time
Rattan Swing Chair
A rattan swing chair is the best idea for any outdoor space. Whether you want to decorate your patio, balcony, or garden, a rattan swing chair will provide a cozy and relaxing place to relax. You can imagine yourself lounging in the breeze, enjoying your favorite drink, and reading a good book in a unique rattan rocking chair.

Rattan Swing Chair will make your living space more unique and highlight
Furthermore, rattan swing chairs are not only comfortable but also come in a variety of designs and styles, allowing you to choose one that fits your outdoor décor seamlessly. Some of the most popular types of hanging chairs that you can refer to our pod hanging chairs, hanging egg chairs, hammock chairs, and cocoon chairs
Rattan Bar Cart
Are you looking for a stylish way to serve customers or display your decorative items in a trendy way? Rattan Bar Cart is the right item that you should pay attention to.

Rattan Bar Cart makes it a stylish and functional addition to your outdoor living space
Whether you're hosting a party or a casual gathering, a bar cart will make it a stylish and functional addition to your outdoor living space. In particular, with convenient wheels and spacious shelves, rattan bar carts allow you to move drinks, glasses, and snacks easily.
Furthermore, it can not only hold drinks, beverages, and ice, but also can hold napkins, baking spices, cutlery, and even in the kitchen or bathroom.
Rattan Planters
Rattan Planters is an earthy piece of furniture beloved for its charm and instant eye-catching appeal. These planters certainly make a lovely alternative to traditional terracotta pots, which enhance the beauty of your garden or patio.

Rattan Planters  charm and instant eye-catching appeal for your home decor
Rattan planters have various sizes and shapes, which allow you to create a customized garden display. Whether you select to showcase colorful flowers or fresh trees, rattan planters still add a natural element to your outdoor décor.
Rattan Storage Bench
This Rattan Storage Bench blends effortlessly with different interior styles, while its generous concealed space storage keeps your things neatly organized. Furthermore, a rattan storage bench provides extra seating when family or friends gather for outdoor gatherings. This multifunctional furniture will be a great, valuable piece of furniture for any home.

Rattan Storage Bench is a multifunctional furniture that you shouldn't ignore
Some questions when buying rattan outdoor furniture
When buying rattan outdoor furniture, there are many questions related to price, maintenance, or warranty. This ensures that you understand the product well and can use it for years to come. Here are some questions you can ask before buying outdoor rattan furniture.
Are cushions included?
One thing you can consider when buying rattan outdoor furniture is whether cushions are included. Although some sets may include cushions, others may require you to buy them separately. Cushions will provide comfort and add to the outstanding aesthetics of the furniture. Therefore, it's essential to know whether they are part of the furniture or not.

Some furniture may include cushions or not depending on the shop you buy
What is the maintenance required?
Understanding how to maintain rattan furniture is vital to ensure its longevity and keep it looking clean. In general, rattan typically requires low maintenance. You don't have to spend too much time cleaning it. The best way to keep it is regularly dusting or wiping with a damp cloth. Additionally, it's essential to inquire about specific care instructions. Here are some tips you can follow:
Dust removal once in two weeks is enough. Use a damp cloth or soft bristle brush to clean all dirt. After wet processing, you must dry the surface of the furniture.
Avoid rattan outdoor furniture getting completely wet - this wood can swell from prolonged contact with water. It is recommended to dry the items thoroughly. Moreover, when spilling liquids into furniture, you should immediately remove them with dry rags.

Rattan outdoor furniture requires lower maintenance than other materials
What is the warranty?
The warranty will bring peace of mind, ensuring you that the product is of high quality and can last over time. It is important to know the duration and scope of the warranty. Additionally, this is how you can feel confident that you are making the right investment in a durable and reliable outdoor rattan furniture set.

The warranty will make sure the product is high-quality and lasts over time
Conclusion
In this article, Rowabi has introduced to you some of the most rattan outdoor furniture as well as how to design a tourist house with these items.
Choosing the right outdoor rattan furniture will enhance and add elegance to the outdoor sightseeing space. If you want to know more, contact us for more detailed information.

Read more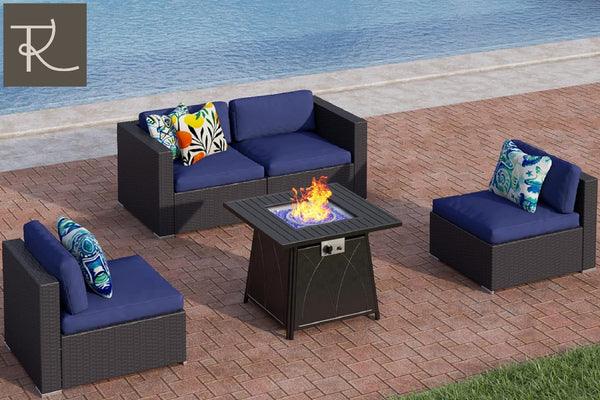 Rattan patio furniture is becoming increasingly popular in modern homes because of its durability, aesthetics, stylish design, and other benefits. In addition, it can also extend your living space ...
Selecting the perfect modern farmhouse paint colors can initially seem overwhelming, given the array of options available. However, design experts have identified several stunning hues that can cre...
Embrace business opportunities that are low-risk and timely. Right now!