Rattan bamboo furniture
Written by Henry Phan
Update

Rattan bamboo furniture has gradually become one of the best choices for every home. This item brings classicism, warmth, and harmony to any space. In addition, furniture made of bamboo and rattan is also very unique and impressive. Let's explore with Rowabi has some of the most beautiful rattan furniture in this article.
What's rattan?
Rattan is a material used to weave wicker. It is found in tropical regions, especially in Australia, Asia, and Africa. There are more than 600 species of clouds in the world. It is often woven into many different things, including furniture, baskets, and crafts, because of its durability, versatility, and naturalness.

Rattan is a material used to weave wicker and is found in tropical regions.

Furthermore, rattan is easy to maintain as it can withstand natural conditions and requires minimal care. With its natural tones and intricate design, rattan can add an elegant touch to any space, making rattan furniture a popular choice among interior designers.
What's bamboo?
Bamboo is a type of grass that belongs to the plant family Poaceae. It can grow easily and smoothly around the world, especially in Asia. Bamboo, in particular, is one of the fastest-growing wood crops in the world. Bamboo is known for its durability, strength, and flexibility, so it is ideal for making furniture.
This versatile plant is not only used for furniture but is also used in textile works, construction, and as a food source. With its durability and aesthetic appeal, many places around the world are considering bamboo as a sustainable resource.
The Differences Between rattan and bamboo materials
Are rattan and bamboo the same? Many people confuse rattan and bamboo as the same material. However, the truth is that rattan and bamboo are completely different, and they are used in very different ways.

The biggest difference between rattan and bamboo is that bamboo is hollow and less durable than rattan, while rattan is a much more durable material that can be bent and solid.

The difference between rattan and bamboo is that  rattan is much more durable than bamboo

Furthermore, rattan and bamboo furniture also have clear differences in structure, design, characteristics, and usage. For example, when looking at a chair to determine whether it is made from rattan or bamboo, you may pay attention to its style and structure. If the chair has a lot of curves and intricate details, it is most likely made from rattan.

Moreover, you can observe the characteristics and usage of the chairs to distinguish between them. To understand and answer the question of which is better, rattan or bamboo, you can follow the table below:
| | | |
| --- | --- | --- |
| Quality | Rattan | Bamboo |
| Hardness | Flexible and hard | Harder than mahogany wood |
| Bending | Very flexible, so it can be bent | Can't be bent |
| Inside | Is a solid material | Hollow inside |
| Growing | Grows as a vine | Grows straight up |
| Finishing | Take stains and paint very well | Can finish and paint |
| Plant species | Belongs to palm family | A grass plant |
| Largest country of source | Indonesia | China |
| Where can find | Tropical forests like Asia, Australia, or Africa | Mainly in Asia, Africa, and Latin America |
| Number species | Over 600 species | Over 1,000 species |
| Growth rate | Fast-growing | One of the world's fastest-growing trees |
| Use for home decor | Furniture, baskets, shades, lamps, and other accessories | Furniture, baskets, shades, lamps, and other accessories |
How good for the environment bamboo and rattan furniture is
Rattan bamboo furniture is not only strong and durable but also environmentally friendly. Bamboo is known for its fast growth, so it can be harvested repeatedly over and over again without causing harm to the environment. The next remarkable feature of bamboo is that it's carbon-neutral, which means bamboo absorbs more carbon dioxide from the atmosphere than it emits.

Bamboo and rattan furniture are produced without using toxic chemicals to the environment.

In addition, rattan bamboo furniture is produced without using toxic chemicals, ensuring a safe and healthy choice for your home. By choosing this eco-friendly furniture, you can contribute to reducing pollution as well as promoting a green lifestyle. By investing in bamboo and rattan furniture, you are not only benefiting the environment but also supporting the community.
How to Design with Rattan and Bamboo Furniture
Bamboo rattan furniture can create natural beauty with warm colors and different textures. In addition, this place also has a variety of interior design styles, from classic to modern. When designing your space with rattan furniture, there are several factors. Here are some tips on how to design bamboo or rattan furniture:
Choose the Right Pieces
Start designing your home by choosing the right furniture made from bamboo or rattan. These can include chairs, tables, sofas, or beds. You should also consider the size and shape of your living space and choose furniture that harmonizes with your overall design aesthetic.
Mix and Match
The best thing about rattan bamboo furniture is that you can mix and match different weaves, styles, and colors while maintaining the look throughout the room. Moreover, mixing and matching also helps you avoid a monotonous look.

For example, you can combine a sleek modern dining table with rattan chairs or pair a bamboo coffee table with a modern leather sofa. Mixing these materials properly can create a visual appearance and add depth to your space.
Natural Color Palette
Rattan wood has a neutral color, so you can consider combining it with similar earth tones such as beige, cream, or light brown to enhance the natural beauty of rattan furniture. Furthermore, rattan bamboo furniture also has warm earth tones, easily combining harmoniously with many different interior styles to create a warm atmosphere.
Texture Play
Rattan or bamboo furniture brings an interesting texture to your interior. However, you can enhance it further through decorative accessories. You can add natural materials like sisal or jute rugs to your home. The combination of textures is sure to add visual interest and make your space feel cozy and inviting.
When designing your space with rattan furniture, you should choose the right pieces and mix it perfectly
9+ Best rattan bamboo furniture for home decor
Bamboo or rattan furniture has become a popular choice for home decoration in recent times because of its natural and timeless appeal. If you are looking for rattan bamboo furniture for your home, here are the 9 best bamboo furniture outlets you can refer to:
Rattan Armchairs
Rattan armchairs are one of the best rattan and wicker bedroom furnitureor even a living room. With intricate weaves and sturdy construction, these armchairs offer comfort and style for the user.

Rattan armchairs offer comfort and style for the user

Whether you prefer a classic or modern contemporary style, rattan armchairs come in a variety of shapes and sizes to suit your preferences. You can also add cushions or pillows to increase their visual appeal.
Bamboo Dining Sets
Bamboo dining table sets are a great choice to create a highlight in your dining room. These dining sets typically include a table and chairs made from sustainably sourced bamboo. Therefore, they give a modern and sleek look. However, it still creates a warm and inviting atmosphere for homeowners and guests alike.

Bamboo dining sets will emphasize highlight for your dining room

In particular, whether you have a small or large space, bamboo dining table sets are available to suit your needs.
Rattan Sofas
If you want to choose great rattan bamboo furniture to relax, you shouldn't ignore rattan sofas. Rattan sofas are the perfect choice for living rooms or outdoor areas. It provides a comfortable interior solution to spend more time relaxing, socializing, and enjoying your time. Moreover, it adds a rustic charm to any space, making your living space more modern and fabulous.

Rattan sofas provide a comfortable place for relaxing and resting
Bamboo Bed Frames
Bamboo is often considered the best material for making bed frames. These frames are beautifully designed to match your industrial or contemporary aesthetic. In addition, it is environmentally friendly and does not harm your health.

Bamboo Bed Frames add a soothing element to your sleeping space.

Nowadays, bamboo bed frames come in many designs, from minimalist designs to modern designs to suit everyone's needs. Especially when adding a bamboo bed frame, the natural finish of bamboo is sure to add a soothing element to your sleeping space.
Rattan Coffee Tables
If you are a coffee lover and want somewhere to enjoy coffee moments, the Rattan Coffee Table is the best piece of rattan bamboo furniture that you should not miss. These coffee tables are both functional and stylish; they not only provide a surface to place drinks on but also decorate your home.
A Rattan Coffee Table is the best piece of furniture for anyone who loves coffee

Additionally, rattan coffee tables come in a variety of shapes and sizes, allowing you to choose one that fits your space perfectly. Plus, their intricate weaves and sturdy construction make them a beautiful accent in any space.
Bamboo Bookshelves
Any house that has a lot of books must immediately add a bamboo bookshelf right in the room. These shelves are not only practical storage but also an impressive highlight for your room.

A bamboo bookshelf is known for function and decoration

Whether you follow a minimalist or modern style, their natural wood color and unique texture are sure to add warmth and character to your space. Additionally, bamboo furniture is known for its sturdiness and durability; it can go through many books without damage and can last for many years to come.
Rattan Hanging Chairs
A Rattan hanging chair is also known as a swing chair, egg hammock chair, or hanging basket chair. They are usually made for one person. These comfortable and stylish chairs can be placed both indoors and outdoors, creating a cozy place to relax.

Rattan hanging chair brings comfortable and stylish space to your space

Being flexible and lightweight, rattan has become the perfect material for these chairs, allowing you to sway gently while reading a book or simply enjoying time off.
Bamboo Room Dividers
If you are looking for some rattan bamboo furniture to decorate or cover something, then Bamboo Room Partition is the perfect choice. You can use it to divide a large open space or create a private area in a room.
Bamboo Room Dividers can be used to divide a large open space or create a private area

You can refer to bamboo room dividers in a variety of designs and add them to add depth and texture to your home decor. Whether you prefer a simple screen or an intricate pattern, bamboo room dividers are sure to elevate your room's style.
Rattan Bar Carts
Rattan Bar Carts are the vintage bamboo rattan furniture that you should add to your home decor. These items are ideal for displaying your favorite drinks and glassware. In particular, rattan bar carts often have a combination of rattan and glass shelves, enhancing their elegance and sophistication.

Rattan Bar Carts will create a vintage space for your home

You can use them to display glasses and flowers, or even store towels in the bathroom. Whether you place them in the dining area, living room, or even on the terrace, rattan bar carts are attractive and wonderful.
The best design style for Rattan and bamboo furniture
The best benefit ofrattan bamboo furniture is that it is perfect for almost any interior. Here are some of the most beautiful bamboo and rattan interior design styles you can refer to:
Tropical or Coastal Style
Tropical or coastal styles are popular choices for rattan or bamboo furniture. This design style creates a relaxing and comfortable atmosphere in your own home. You can look for furniture with brightly colored rattan frames, adding some accents like coral, seashells, or palm leaves to add to the coastal feel.

Tropical or coastal styles will bring you a relaxing and comfortable atmosphere
Bohemian (Boho) Style
The bohemian style is very suitable for rattan bamboo furniture, especially for those who love the free and eclectic feeling. With bohemian style, there are officially no rules at all. Instead, it includes a combination of textures, patterns, and colors, allowing you to create a personalized and unique space.

Bohemian style allows you to create a personalized and unique space

Rattan and bamboo are the most popular materials when it comes to bohemian furniture. For example, you can combine rattan or bamboo furniture with vibrant and differently textured cushions, such as fringed rugs, to achieve style.
Mid-Century Modern
Rattan and bamboo furniture can add a decorative touch to a mid-century modern style without being overwhelming. Instead, this style has clear, minimalist lines. You can choose beautifully shaped rattan or bamboo chairs and combine them with cushions with geometric patterns to make your living space warm and cozy.

A mid-century modern style can bring warm and cozy space
Scandinavian Style
Scandinavian style is widely used and popular all over the world. The main color used in this style is white, which is harmoniously combined with other tones such as black or gray, etc. This design is known for its simplicity and natural materials, so it is completely suitable with rattan furniture. This blend also brings you comfort, peace, and relaxation. Therefore, the Scandinavian style is not only suitable for young people but also middle-aged people.

Scandinavian style is known for its simplicity and natural materials
Eclectic Style
In contrast to minimalism, eclectic style combines different colors, shapes, and textures to create a stylized environment full of personality. In this style, you can combine rattan bamboo furniture with vibrant floral patterns or geometric designs.

With an eclectic style,  you can mix and match rattan furniture with vibrant floral patterns
Some questions when buying rattan bamboo furniture
Choosing the right rattan bamboo furniture will create a highlight for your home decoration style. When buying at a rattan or bamboo furniture store, there are many questions that people often care about, such as whether bamboo furniture can be outside or whether it is cheap or expensive.
Is it expensive?
Rattan bamboo furniture can be expensive because it is made from natural, durable materials and is carefully prepared. In general, prices can range from low to high to suit everyone's budget. However, it is more affordable than other types of wooden furniture.

Rattan bamboo furniture can be expensive because of its naturalness and durability
How can I clean?
How to clean bamboo rattan furniture? Cleaning rattan bamboo furniture is easy. You should clean it once a year with white soap, warm water, and a cloth. Here are some tips you can follow to keep your rattan or bamboo furniture clean:
Dust the rattan and bamboo furniture with a soft cloth or a feather duster to remove any loose dirt regularly.
Use warm water and a mixture of mild soap for a deeper clean. Remember to dampen a soft cloth in the water and gently wipe down the furniture. You should make sure to remove any stains or grime on the surface of the furniture.
Avoid using harsh chemicals because they can damage the natural fibers of the rattan bamboo.

When cleaning bamboo rattan furniture, you can use soap, warm water, and soft cloth
Conclusion
In this article, Rowabi has introduced to you some of the best rattan bamboo furniture. In general, this item is a priority choice for every home decorator because of its rustic charm and natural appeal. If you want to know more details about rattan or bamboo furniture, don't hesitate to contact us for more information.

Read more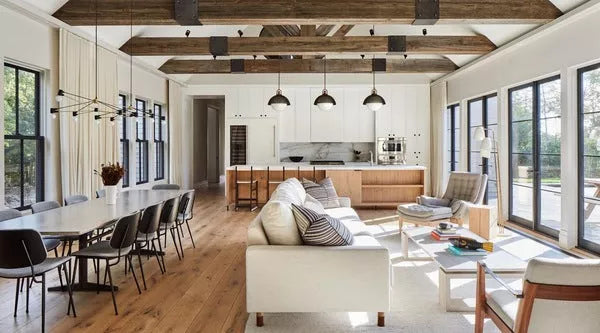 Modern farmhouse living room is becoming more popular because they are accessible, family-friendly, and best of all affordable. Furthermore, it combines old-country comfort with modern appeal. Are ...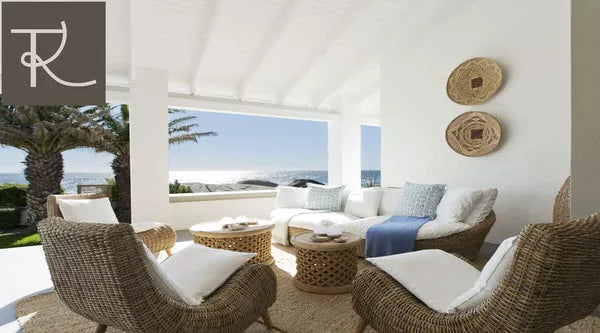 Rattan furniture indoor is an excellent option for furniture pieces that offer comfort, style, and durability. In this article, Rowabi will offer you in-depth insights into this type of furniture a...
Embrace business opportunities that are low-risk and timely. Right now!