15+ crystal pendant lights to make your home sparkle
Written by Henry Phan
Update

The world of interior design is akin to a canvas, and in it, lighting becomes the brushstroke that defines the masterpiece. Crystal pendant lights, in particular, possess a mystical quality beyond normal illumination. As we embark on this captivating journey, Rowabi invites you to explore a selected collection of 15+ crystal pendant lights. Let's take a look at these game-changing items to upgrade your house!
The captivating features of crystal pendant lights
Crystal pendant lights stand as luminous works of art that transcend their role as mere lighting fixtures. They are the embodiment of exquisite craftsmanship, possessing a transformative quality that can metamorphose any room into a captivating and enchanting space.
A touch of crystal pendant lights can shift the beauty of your living area
It is this ability to capture the essence of opulence and grandeur that makes it not just a lighting source but a remarkable focal point that draws the eye and admiration of all who enter the space.
These fixtures are, without a doubt, more than just lighting; they are masterpieces that bring a sense of luxury and charm to your living spaces.
The advantages of crystal pendant lights
According to Yahoo! Finance, the crystal chandelier is pendant lights segment dominated the market in 2022, holding more than one-third of the global chandelier/pendant lights market revenue. This trend is expected to persist in the foreseeable future. Why, you ask? Let's discover the advantages that make them so popular:
Exceptional durability
Crystal pendant lights are renowned for their remarkable durability. When properly maintained, they can preserve their brilliance and beauty for many years, making them a lasting investment in your home decor.

The high-quality materials ensure that they remain as stunning as the first day
Elegance and aesthetics
Crystal pendant lights add a touch of sophistication and luxury to any room. The sparkle and shine of the crystals create a captivating focal point, enhancing the overall aesthetics of your space.

Crystal pendants elevate the visual appeal of the room no matter what style it is
Cozy and romantic atmosphere
Few lighting fixtures can match the ability of crystal pendant lights to set the stage for a cozy and romantic atmosphere. The play of light through the myriad crystal facets casts enchanting patterns and reflections that dance across the room.

The romantic allure of a crystal pendant light makes ordinary moments feel extraordinary
This interplay of light and crystal adds a subtle but undeniable touch of glamour and elegance to your living spaces, evoking a sense of timeless charm and sophistication.
Variety of colors and shapes
Crystal pendant lights offer an extraordinary range of options when it comes to colors and shapes. Unlike many other materials, crystal is exceptionally malleable, allowing for a multitude of creative possibilities.

You can create your own lights due to your imagination
The unique characteristic of crystal is its ability to be easily molded into various shapes, from classic and timeless to contemporary and avant-garde. This flexibility gives you the freedom to unleash your creativity and select crystal pendants that perfectly match your aesthetic vision.
Versatility across interior design styles
Crystal chandeliers-pendant lights possess a remarkable versatility that allows them to adapt to a multitude of interior design styles, making them a popular choice among homeowners and designers alike.

Crystal pendant lights can basically fit in everywhere and follow every style
Whether you have a penchant for classic and timeless decor or lean towards modern and contemporary aesthetics, crystal chandeliers offer a harmonious presence in a variety of settings.
Top 15+ Crystal pendant lights you should take a look
Raindrop crystal pendant style
This large modern crystal pendant-style chandelier embodies delicate grace and striking decor. With its generous dimensions, it becomes an elegant focal point, ideally placed over a dining table, a kitchen island, or suspended in a stairwell.

Make an eye-catching addition that can instantly transform your room
The light's design is characterized by its clean and sophisticated round brass forms, providing a solid foundation. The hanging crystals below create a mesmerizing effect reminiscent of gently falling raindrops, giving the illusion of weightlessness. It could be an excellent choice for modern interiors seeking a touch of sophistication and glamour.
Creative crystal pendant light
The light's simplicity, with its round shape, holds a unique charm. On its exterior, it features diamond-cut patterns, adding a distinctive touch to the overall design. This light is exceptionally well-suited for modern, minimalist, or dark-themed interiors.

Elevate any room with this stylish and elegant lamp
It's perfect for illuminating living rooms, bedrooms, or a cozy reading nook. This lamp is a blend of style and functionality, offering both illumination and aesthetic appeal.
Crystal pendant light in chrome
The crystal Pendant in Chrome is the embodiment of decorative lighting at its finest. This incredible fixture not only provides ambient light but also takes on the role of a captivating focal point that can define the entire design of a room.

Like a precious gem, it adorns your interiors with timeless allure
This pendant's gentle illumination is perfect for a living room, dining area, or even an elegant entryway, where it can immediately capture the attention and admiration of all who enter.
Industrial crystal pendant light
The Industrial Crystal Pendant Light is a contemporary masterpiece that effortlessly blends modern aesthetics with timeless charm. Its clear glass finish lends a sleek and sophisticated touch while illuminating your surroundings with a warm and welcoming ambiance.

Perfect choice for those seeking a harmonious fusion of industrial and classic elements
Its versatility makes it an excellent fit for a range of interior styles, from industrial chic to contemporary, infusing your space with sophistication and a hint of allure.
Rectangular cascade-down crystal pendant light
This captivating rectangle pendant light is the perfect addition for those seeking a focal point that shines brilliantly over expansive dining tables and breakfast bars. It effortlessly infuses a touch of glamour into your well-appointed spaces.

The character of this pendant light is best described as alluring and elegant
The faceted crystal details cascade down like a mesmerizing waterfall, creating an irresistible visual allure that captures the attention of your guests. All the while, the iron base offers a clean and precisely tailored edge, adding a touch of refinement to the ensemble.
It can fit into a range of interior styles, from contemporary and chic designs to classic and elegant settings.
Shape adjustable LED crystal pendant light
This LED Crystal pendant light is a remarkable fusion of both art and illumination. Its character is defined by a captivating double-loop design that transforms it into an impressive piece of artistry. The shape of this pendant light is unique and captivating, boasting faceted crystal edges that allow it to radiate a brilliant glow from every angle.

Lighting with this pendant is nothing short of enchanting
Its versatile design makes it a remarkable addition to any room, thanks to its stable and adjustable cables. It can be customized to hang at the precise height you desire, making it a perfect fit for living rooms or as an exquisite fixture over dining tables.
 Crystal ceiling pendant lights
The crystal chandelier pendant light carries a rich European tradition that exudes timeless elegance and opulence. These chandelier pendant lights have a long history of gracing the palaces and manor houses of Europe, setting the stage for brilliant evenings.

Its ornate design and shimmering crystals create a sense of grandeur and sophistication
This chandelier-pendant light is designed to bring brightness and glamour to your space, making it an ideal addition to your dining room or entryway. Its round shape is adorned with rows of dangling crystal accents in varied sizes, casting a subtle and enchanting shimmer.
Rectangular chandelier modern crystal pendant light

The lighting is not only practical but also artistically pleasing
The Rectangle Crystal Chandelier-pendant light is a striking blend of modernity and sophistication, designed to enhance the aesthetics of your dining room or kitchen. Its character is defined by a sleek and stylish rectangular stainless steel frame coupled with top-quality K9 crystals, creating an air of simplicity and high fashion.
Its modern and contemporary style, combined with its chrome silver finish and crystal elements, ensures it can fit into a variety of interior styles, from minimalist and sleek contemporary to more luxurious and upscale designs.
Crystal umbrella pendant light
The pendant features three graduated half-globe-shaped lights, each with a half-metal and half-crystal composition, suspended from a round plate and displayed at varying heights along black-finished rods.

This pendant light is rich, rustic, and unmistakably stylish
This pendant light is exceptionally versatile, making it perfect for a wide range of spaces within a home, including the house, bedroom, and living room. Moreover, for business establishments such as bars, restaurants, and coffee shops, this pendant light can serve as a captivating focal point. Its rustic charm and unique design can help create an inviting ambiance, making it a stylish addition to these commercial settings.
Retro globe small sphere pendant light
The metal framework of this pendant is finished in an antique gold tone, which adds a touch of glamorous sophistication to the overall character. The antique gold frame beautifully contrasts with the delicate latticework, creating a visual contrast that your guests will undoubtedly admire.

By choosing this pendant, you can glamorize your retro or vintage-themed spaces
It is equally suitable for both residential and commercial spaces. Also, this crystal globe pendant is a perfect fit for retro and vintage interior styles. Its antique goldtone finish and the use of brilliant-cut crystals offer a nostalgic charm that complements the aesthetics of retro and vintage decor.
Feather-shaped crystal pendant light
The Meiszally Light Crystal Pendant Light exudes an enchanting blend of simplicity and artistry. Its character is marked by a harmonious fusion of crystal and metal frames, resulting in a captivating and modern luxury charm.

The appearance of this pendant light is effortlessly chic and artistic
The shape of the pendant is contemporary and streamlined, showcasing a design that embraces modernity and elegance. The combination of blue crystal feathers and clearer crystal particles adds an extra layer of uniqueness and visual interest. This adaptability and flexibility in height adjusting make it ideal for various rooms, including the kitchen island, dining room, bedroom, living room, bar, and entryway.
Gold mirror crystal pendant light
If you have an affinity for the enchanting allure of crystals, this new hanging light will undoubtedly capture your heart. Encased in glass with a captivating gold mirror finish, this light is nothing short of striking. The crystals elegantly drape from the center, reminiscent of glistening frozen water droplets.

The water droplet design on the glass adds to its charm
The shape of this light is both graceful and delicate, with the glass enclosure exuding an air of sophistication. The lighting it provides is equally captivating, as the crystals refract and reflect the light, creating a mesmerizing play of illumination and shadows.
Crystal shell pendant lights
The Crystal Shell Pendant lighting is defined by the innovative use of leftover Pyrex glass, which is transformed into a cymbal-like shape through a process of crushing and blowing. This technique results in a mesmerizing crackled finish on the glass discs and delicate waves along their edges.

The design is deeply personal, inspired by founder Joseph Sidof's childhood memories
These pendants can be hung together in various configurations, and suspended at different heights, allowing for the creation of one-of-a-kind arrangements that suit your space. They are ideal for use in creative and artistic settings.
The basket crystal hanging light
The Savoy Crystal Hanging Light is a fixture that radiates elegance and sophistication, making it a captivating addition to any room. Its character is marked by the high-grade crystal beading, meticulously arranged to form a basket-like structure, offering a contemporary reinterpretation of the classic empire chandelier.

In terms of shape, this crystal pendant light strikes a balance between tradition and modernity
The glass top and bottom bowls work in tandem to create a captivating interplay of light and shadows, bathing the room in a warm and inviting glow. This pendant light is an ideal choice for formal living areas, master bedrooms, or any space that craves a touch of classic luxury.
From a commercial perspective, this pendant light can infuse glamour into the ambiance of hotel reception areas or elevate the overall aesthetic of bridal store interiors.
Glam-dropping crystal pendant light
This beautiful crystal pendant light, a multi-light chandelier, is not only a source of ample illumination but also a stunning decoration in its own right. The shape of this pendant light is gracefully designed with multiple lights, creating a sense of opulence and grandeur.

The crystals elevate the ambiance to a luxurious and modern level
The arrangement of crystals and lights results in a captivating play of illumination and shadow, casting a warm and inviting glow throughout the room. It's an ideal choice for various spaces, such as the living room, reception areas, or even walkways. This masterpiece is the best choice for glamorous and modern house design.
Orchid crystal pendant
This cluster of sparkling and charming crystal pendant light embodies a delightful blend of Mid-century style and brass material, creating warm and soft lighting that infuses a sense of cozy comfort into the living or dining room. It's a modern branch chandelier lighting fixture that exudes character and charm.

It is the perfect lighting solution for your kitchen island
With its elegant design and warm lighting, it also makes for a special gift for loved ones, such as a thoughtful gesture for a New Year, birthday, new home celebration, or even a self-indulgent treat.
Current trends of crystal pendant light
Today's crystal pendant lights encompass several notable trends that cater to both contemporary aesthetics and practicality. Let's explore the current trends in crystal pendant lights:
Minimalist elegance
Modern crystal pendant lights often embrace minimalist design principles. They feature clean lines, simple shapes, and an uncluttered appearance.

It suits those who appreciate the beauty of crystal but prefer a streamlined look
Mixed materials
Designers are experimenting with mixed materials, combining crystals with elements like metal, glass, and wood. These combinations create captivating contrasts and textures, adding depth to the overall design.

The integration of different materials allows for a fusion of styles
Vintage and retro revival
Vintage and retro styles continue to influence crystal pendant light design. Mid-century modern and art deco elements make a resurgence in pendant light design, adding a touch of nostalgia to contemporary spaces.

A little touch of glass and crystal pendant lights is never out of fashion
Cluster and multi-light designs
Cluster pendant lights, featuring multiple lights in one fixture, are gaining popularity. These designs create a stunning visual impact and are ideal for larger spaces or as statement pieces.

Multi-light infuses special impact on the living area
What to consider when selecting the perfect crystal pendant light?
To make an informed choice and fully appreciate the beauty and allure of crystal pendant lights, it's essential to consider several key factors.
Room Size: Pendant lights come in various sizes, and it's essential to choose one that is proportionate to the room. In larger spaces, a grander and more substantial pendant light can make a striking statement, while smaller rooms may benefit from a more compact design.
Interior Style: Consider the overall interior style of your home. Choose a pendant light that complements your existing decor, whether ornate and vintage or sleek and minimalist.
Lighting Needs: Is it meant to be the primary light source for the room, or is it more of a decorative accent? If it's the primary light source, ensure it provides sufficient brightness for the space.
Crystal Quality: The quality of the crystals used in the pendant light plays a significant role in its overall appearance and sparkle. Opt for high-quality crystals like Swarovski crystals or full-lead crystals for maximum brilliance. Cheaper alternatives may not provide the same level of luster and clarity.
Maintenance Requirements: Crystal pendant lights can be dazzling, but they also require maintenance to keep them looking their best. Ensure that you're prepared to clean and maintain the pendant light regularly to preserve its sparkle and elegance.
Budget: Crystal pendant lights come in a wide range of price points. Determine your budget early in the selection process to narrow down your choices.
Final thoughts
Having explored 15+ stunning crystal pendant lights, it's evident that these fixtures possess the potential to transform your living spaces into captivating and inviting havens.
If you're also considering a more sustainable lighting option, it's worth exploring rattan pendant lights. Crafted entirely by hand using natural materials, these lights offer a unique and eco-friendly choice. You can expand your selection by checking out Rowabi's sales RIGHT HERE on lighting options, where you might discover the ideal pendant light that not only illuminates but also adds a touch of nature's beauty to your home.

Read more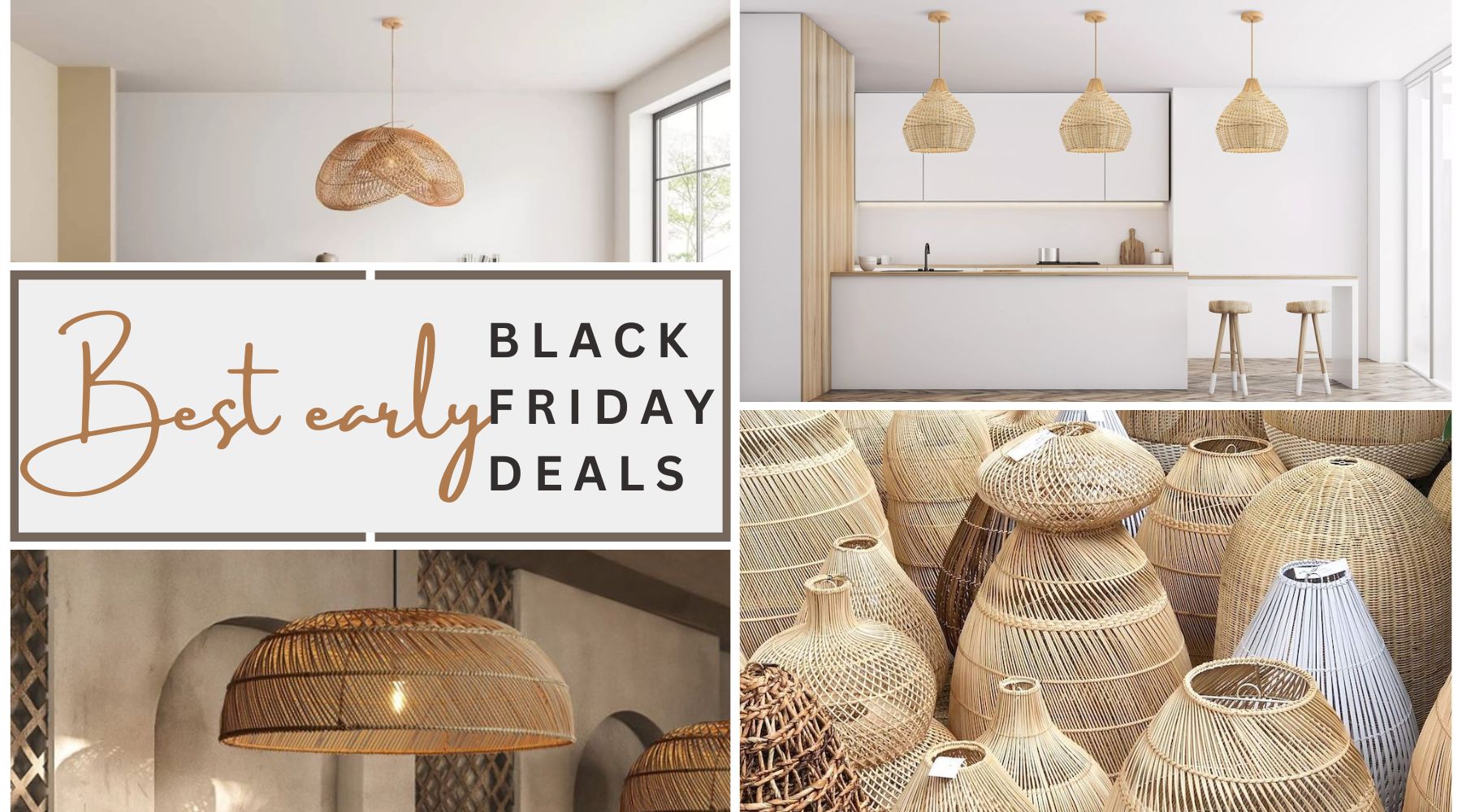 Embrace business opportunities that are low-risk and timely. Right now!