Modern farmhouse
Written by Henry Phan
Update

Modern farmhouse is a popular interior design because it brings a fresh, modern take on traditional farmhouse design. With prominent use of natural motifs like painted wood, simple white tones, and light grain, the simplicity and livability of modern farmhouses make them look great in any area.
In this article, Rowabi has provided you with some of the most beautiful modern farmhouse ideas as well as how this style differs from other styles.
What Is modern farmhouse Style?
What is the modern farmhouse decorating style? Modern farmhouse is a style that blends traditional farmhouse decor with modern design, furniture, and color schemes. This style is about simplicity and functionality.
It is a perfect blend of rustic and modern aesthetics, creating a warm and inviting atmosphere in any home. 

Modern farmhouse is a style that blends traditional farmhouse decor with modern style
The color palette of modern farmhouses is typically neutral, including shades of white, beige, and gray, creating a comfortable space, and making everyone put their feet up and stay a while.
Moreover, pieces are typically made of sturdy and durable materials, with clean lines and a mix of antique and contemporary designs.
Modern farmhouse color schemes
In terms of color schemes, the modern farmhouse style often combines gentle and muted tones. What are modern farmhouse colors used most in modern farmhouse looks?

Modern farmhouse style features natural and earthy colors
The best modern farmhouse colors are natural and earthy colors like blues, greens, deep, warm oranges, and neutrals like white, cream, beige, and gray.
These colors provide a neutral backdrop that allows other design elements to stand out.
White: White is one of the most popular colors used in farmhouse modern furniture. This color helps to make the rooms feel bright and open.
Warm neutrals: Warm neutrals include cream, brown, and beige, which provide a sense of comfort and invoke natural skin tones. With a subtle undertone, these warm neutrals will create a natural and inviting atmosphere for every house. 
Cool neutrals: Cool neutrals like gray, silver, blue, and light green can also be used in modern farmhouses to create a calming and serene environment. Furthermore, these colors have natural soothing qualities that help to promote a sense of tranquility within the home and make people feel relaxed. 
Earthy accents: Earthy accents such as warm woods, greenery, and shades of changing foliage colors can also be incorporated as a way to bring the calming qualities of nature indoors. These earthy accents are not bold or jarring, but instead, they create a relaxing, reassuring, and grounding atmosphere. 
Common Elements of Modern Farmhouse Style
Are modern farmhouses still popular in recent years? The answer is yes. This style is the perfect combination of rustic charm and modern simplicity. Here are some popular elements you often see in modern farmhouse decor.
Reclaimed wood: Reclaimed wood is used for flooring, furniture, or accent walls. The aged and weathered appearance of reclaimed wood will add a rustic touch to any space. 
Barnboard details: Barnboard details recall the rural heritage of farmhouses as well as add visual interest to the space. The rough-hewn and rough-sawn of the barnboard adds a touch of authenticity to the overall design.
Wide plank floors: Wide plank floors are a classic feature of the modern farmhouse style. These wide boards will make a sense of spaciousness in the space. In addition, they also add warmth to a room, regardless of whether it's a living room, bedroom, or kitchen. 
Wrought iron accents: The ornate and intricate designs of wrought iron create an interesting contrast with the rustic backdrop. These accents add a touch of refinement and bring a timeless appeal to the house.
Architectural salvage: Architectural salvage includes several elements such as antique doors, windows, and hardware that are used as unique features, giving a classic and authentic touch to the space. Furthermore, these salvaged pieces add a sense of history and personality to the modern farmhouse aesthetic.
Vintage accessories: Vintage accessories will bring beauty to the modern farmhouse look by adding a touch of personalization and nostalgia. In addition, these unique pieces also bring a sense of history and individuality to the space.
Pine furniture: Pine wood furniture has a natural, simple beauty and is a popular choice for modern farmhouses. Whether it is kitchen cabinets, dining tables, or bedroom furniture, the earthy and warm tones of pine are sure to complement the overall décor perfectly.
Big comfortable furniture: Big comfortable furniture is often used in modern farmhouse interiors. You can consider large armchairs, sofas, and couches to create a friendly, simple space that encourages gathering and relaxing with family and friends.

Some elements you can find in a contemporary modern farmhouse such as barnboard details, pine furniture,...
Get the Modern Farmhouse Look
Comfort is a top priority in modern farmhouse decor. Some modern farmhouse furniture will add a cheerful, cheerful feel to the space. If you're looking to transform your home into a modern farmhouse, here are some tips to get the modern farmhouse look.
Use light neutrals as a base: Starting with a neutral color palette like white, beige, or light gray will be a great foundation for a modern farmhouse interior design. These colors create a fresh feel that allows other elements to stand out. Additionally, you can also buy used woods that are subject to wear and tear whenever possible.
Add accent colors: In a modern farmhouse, you can also feel free to add accent colors to create depth and interest. However, make sure to use neutral tones with bright colors to keep the look honest. These colors can be applied through the choice of furniture, accent walls, or accessories in your house. 
Incorporate texture: Incorporate texture to create a cozy feel and add depth to the look. You can incorporate natural materials like wood, chenille, canvas, and metal to add texture to your space. For example, you can add texture with upholstered furniture, pillows, curtains, and even wall art made of wood or metal to highlight a modern farmhouse living room.
Mix in metal accents: Modern farmhouse design often includes industrial elements, and metal accents are the best way to achieve this. You should add details like pendant lights, hardware, or railings. However, remember not to use more than three metals per room.
Pull inspiration from nature: To create an authentic farmhouse atmosphere, take inspiration from nature. Mix in natural elements such as wicker, rattan, greenery, or other natural materials to evoke a feeling of lightness and organicity.
Introduce accessories sparingly: Modern farmhouse design often focuses on elegance and simplicity. So avoid cluttering your space with too many accessories. Although accessories are necessary, if used too much, the house can be overwhelmed. Choosing a few pieces that fit the farmhouse aesthetic can add character without overwhelming the space.

You can get the modern farmhouse look by using light neutrals, adding accent colors, and pulling inspiration from nature,...
Modern farmhouse interiors vs. exteriors
Modern farmhouse interiors and exteriors are known for their blend of rustic and contemporary elements, creating a unique and inviting look. The combination of the interior and exterior design plays a crucial role in achieving the desired modern farmhouse aesthetic.

Modern farmhouse interiors and exteriors are known for their blend of contemporary and rustic factors
Starting from the outside, large windows are a common feature of modern farmhouses. These windows act as gateways for natural light to flood inside, creating a bright and airy atmosphere.
Additionally, the clean lines and neat appearance of the exterior create a comfortable and unpretentious atmosphere. This simplicity extends to the interior decoration, ensuring the home has a cohesive and harmonious style throughout.
Furthermore, a characteristic of modern farmhouse exteriors is the presence of large front porches or wrap-around porches.
These spaces play an essential role in gathering and socializing, which emphasizes the role of the home as a place of togetherness. A farmhouse modern style exterior often has some combination of the following elements:
Simple front door - usually a door with windows or a double door.
A gray, black, or mental roof.
There may be batten and batten or an x-shaped border reminiscent of a barn.
Capable of shutters.
Many windows.
The landscape is simple and neat.
Spacious, covered front yard.
Don't decorate too elaborately.
How modern farmhouse compares to other styles
One of the biggest differences between the modern farmhouse and other styles is its relationship to country style. While country style is often considered lavish and reliant on accessories, farmhouse modern retains a certain level of sophistication and keeps accessories to a minimum.
This allows the modern farmhouses to have a more streamlined and clean aesthetic than the country style.

The notable difference between modern farmhouses and other styles is their relationship to country style
Another popular style that has become an offshoot of modern farmhouses is the industrial farmhouse style. This style draws inspiration from both farmhouse and industrial design, creating a unique blend of raw architectural elements.
Furthermore, industrial farmhouses add several elements such as metal, wood, brick, glass, and concrete to create a rustic yet modern look.
There are some differences between modern farms and industrial farms. The industrial farmhouse style includes darker finishes, live-edge woods, and mixed metals, giving it a more solid and edgy feel.
While modern farmhouses tend to be whiter and brighter, focus on creating a light and airy atmosphere.
10 modern farmhouse design ideas that are irresistibly chic
The modern farmhouse design style has quickly become a popular choice for homeowners looking to combine farmhouse charm with the sleekness of contemporary design elements. Here are 10 modern farmhouse chic that will make your home irresistibly stylish.
Glass house meets farmhouse
For those who love the idea of an open and light-filled space, why not try Glass House Meets Farmhouse? This concept incorporates multiple windows and floor-to-ceiling glass doors to create a transition between interior and exterior as well as the perfect blend of modern and rustic.

Glass House Meets Farmhouse features simple angular geometry and plenty of natural light.
A new take on traditional materials
Located on the edge of farmland in the English county of Suffolk, Reydon Grove Farm is a flat-roofed lattice block with walls of windows that offer incredible views of the surrounding landscape. Wooden details on the building's facade and interior recall the vernacular farmhouse style evident in other buildings in the area.

A New Take on Traditional Materials will recall the vernacular farmhouse style
A contemporary extension
Consider adding a modern extension to your existing structure to add an element of surprise to your modern farmhouse design. This could be a glass-walled extension serving as a dining area or a modern cubic structure serving as a studio or workspace.

You also can consider a contemporary extension for your modern farmhouse
You should also consider adding steel panels and IPE timber siding, a 1,000 sq ft extension that includes a reflective roof membrane and motorized skylights.
A minimalist masterpiece
If you like a simple aesthetic, a minimalist modern farmhouse design is the perfect choice for you. You should focus on clean lines, neutral color palettes, and uncluttered spaces. You should also choose furniture with sleek designs and minimalist decoration.

If you like a minimalist masterpiece, a minimalist modern farmhouse design is the best choice
Don't forget to add some warmth with natural wood accents and textures for the perfect balance of simplicity and farmhouse charm.
Livable barn style
Take inspiration from the functionality and simplicity of traditional barns by incorporating elements that make your space more livable. This design uses reclaimed wood for flooring or furniture to add an authentic farmhouse feel and blends rustic elements to create a comfortable and chic space.

Livable Barn Style takes inspiration from the functionality and simplicity of traditional barns
The stone structure, in particular, is reminiscent of traditional farmhouse design but has a modern spirit, with polished concrete floors and beautiful finishes.
A dramatic rural residence
The beauty of rural landscapes inspires this modern farmhouse idea. Features of this concept are large windows and high ceilings, creating breathtaking views of nature. Furthermore, white walls and exposed wooden beams lend a touch of rustic elegance.

The beauty of rural landscapes inspires this modern farmhouse idea.
A bright barn-style home
A Bright Barn-Style Home has open spaces, high ceilings, and lots of natural light. You can use a combination of white and pastel colors for walls and furniture, creating accents with natural wood details. 

A Bright Barn-Style Home pays tribute to the area's traditional farmhouse architecture
Don't forget to combine this with large sliding doors, vintage lighting, and cozy textiles to create a farmhouse design that is both inviting and sophisticated. You can also add two-tier roller blinds to reduce the amount of solar gain from the windows and provide more privacy.
Reclaimed materials made new
Sustainability meets style with this modern farmhouse design idea. Incorporate recycled materials into your home, such as repurposed wood floors or vintage furniture. The mix of old and new creates visual interest and adds character to your space.

Reclaimed Materials Made New creates visual interest and adds character to your space
A farmhouse of epic proportions
If you have a large space, create a farmhouse of epic proportions. You can build grand entrances and large rooms. Don't forget to combine classic farmhouse features, such as gable roofs and wrap-around porches, with modern touches like minimalist furniture and bold artwork. This larger modern farmhouse design will impress guests and provide an exceptional living experience.

A Farmhouse of Epic Proportions will attract any guests who visit your house
An eco-friendly farm
Consider sustainability and farm design with an environmentally friendly farm. You should choose energy-saving devices, solar panels, photovoltaic panels, and rainwater harvesting systems.

An Eco-Friendly Farm features passive heating and cooling as well as solar and photovoltaic panels
You can also build a small vegetable garden or even raise chickens to get fresh eggs. This modern farmhouse design concept embraces eco-conscious living while still maintaining the charm and comfort of a traditional farmhouse.
Conclusion
In this article, Rowabi has introduced to you some of the best modern farmhouse styles as well as the difference between modern farmhouses and other styles. With its comfort, coziness, and charm, the modern farmhouse style is as popular as ever. If you have any questions, contact us directly for more detailed information.

Read more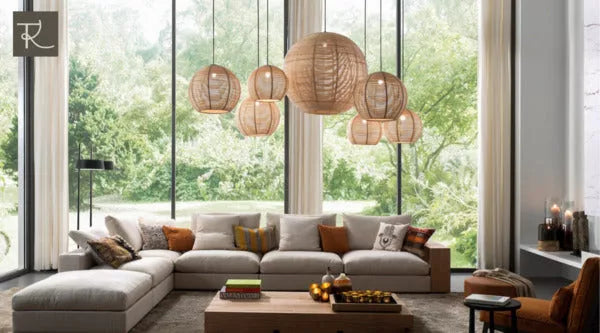 Rattan living room furniture is wonderfully crafted to bring a sense of charm and elegance to your space. Thanks to these items, you can transform your room into more exclusive and stunning to attr...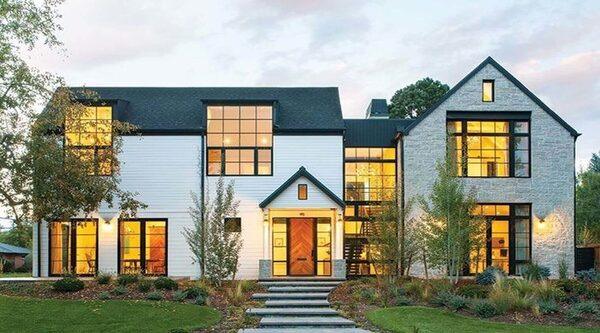 In the modern farmhouse exterior, the focus is on incorporating subtle rustic touches rather than an abundance of vintage and decorative items. One way to achieve this is by selecting reclaimed woo...
Embrace business opportunities that are low-risk and timely. Right now!