Gray modern farmhouse living room
Written by Henry Phan
Update

A gray modern farmhouse living room design brings together the rustic and warm characteristics of classic farmhouse decoration. This style is chosen by many designers because of its clean lines and elegance for the space.
To help you get the best concept for your living room, Rowabi will suggest some tips below. Read it!
Gray modern farmhouse living room ideas
Making a gray contemporary farmhouse living room is a fantastic way to harmonize the charm and the smooth beauty of the overall layout. Let's explore some gray farmhouse living room ideas that you can apply to your space.
Light color scheme
A light color palette can significantly improve the overall look of a light gray modern farmhouse. It helps to offer a cheerful, friendly, and open feeling for your living room.
Moreover, light colors are also an important part of the modern farmhouse because they express the space's characteristics.

A light color scheme may greatly enhance the appearance
You can begin by using light shades of gray as the base for your design. Walls, ceilings, and huge surfaces benefit from white, cream, light gray, beige, and delicate pastels.
Then, let's choose mirrors or hang artwork on the wall with light-colored frames. These items could represent light and make a space look larger.
Combination of textures
If you would like to enhance the mood of a farmhouse gray living room, the combination of textures should be the factor that you should think about. The visual attraction of various textures entices you to reach out and engage with the surroundings.

The living room will appear more interesting and pleasurable
Thanks to the combination, the living room will become more interesting and pleasant due to this sensation of touch. For instance, soft textures like carpets, upholstered furniture, and drapes could help absorb vibrations and create an acoustically pleasing atmosphere for rest and discussion.
Stylish conversational area
Conversational rooms are often connected with nearby spaces like the kitchen or dining area in a gray modern farmhouse living room because of the open floor layout. This airy design promotes communication and a feeling of community.

This open layout encourages dialogue and a sense of belonging
Additionally, a chic conversational space also captures the spirit of the style, which combines conventional rustic components with contemporary trends.
Blue accents
If you opt for the coastal style or anything else, let's choose a shade of blue that goes well with the other colors in your living room.
Farmhouse designs frequently look good in subdued, soft blues like slate, powder, or denim blue. These colors create a calming and quiet ambiance by blending well with neutral tones.

The colors used provide a relaxing and peaceful atmosphere
Another, you can use blue accent cushions and blankets on sofa furniture for a more understated look. These items are simple to replace or rearrange to alter the appearance of the room to match the season or your mood.
Wood details
Farmhouses have become famous because of their old-fashioned and rural appeal. One element that contributes to the best look of this style is wood.
This material offers a genuine farmhouse touch, particularly when kept in its original state or with a worn finish. The intrinsic warmth and friendliness of wood enhance the atmosphere.

Farmhouses have gained popularity due to their traditional appearance
From structural components like exposed beams to furnishings like sofas and chairs, wood can be used in a variety of ways. You can incorporate it into many aspects of the design because of its adaptability. Let's consider exposed wooden beams on the ceiling if your living room has the space.
Add DIYs
Gray modern farmhouse living room will be more unique if you add DIYs to your space. DIY ideas for a gray contemporary farmhouse style can be an appealing and cost-effective method to obtain a personalized and distinctive home.

DIY ideas for a gray contemporary farmhouse style
Adding handmade items allows you to customize the interior design and furnishings to your individual aesthetic and space size. You can also select the precise gray colors and amount of weathering or fading that best fit what you want.
Small farmhouse living room
A small modern gray farmhouse is a comfortable and welcoming place that highlights natural beauty and friendliness. To optimize space and establish a relaxing atmosphere, you should eliminate unimportant obstacles or barriers.

A little modern gray farmhouse is a warm and pleasant setting
Open layouts can make a tiny area appear bigger and increase movement. Furthermore, let's maximize vertical space by including tall bookcases, floating cabinets, or built-in storage units.
Charcoal gray
Charcoal gray stands out from the conventional calm and bright color palettes commonly associated with farmhouse style. This contrast enhances the space's visual intrigue and depth, making it seem more vibrant.

Charcoal gray sticks out from the more traditional colors
Furthermore, when applied sparingly, charcoal gray has a timeless attractiveness that will never go out of style. It is adaptable to shifting trends and will remain current in your farmhouse design for many years.
Elegant touch
A gray modern farmhouse living room with an elegant touch reflects a balanced combination of timeless refinement and rustic charm. This design approach provides a tranquil and inviting ambiance to create an attractive and pleasant setting.

This design methods creates a soothing and amiable atmosphere
Elegant modern farmhouse rooms are gently embellished with refined accents. For example, crystal chandeliers give out a soothing light, vintage-inspired mirrors reflect traditional beauty and ornamental things provide a touch of glamor.
Layer patterns
Pattern layering for modern farmhouse decoration is an artistic approach that adds depth, fascination, and a unique touch to your room. It helps the living room look more amiable and brings visual splendor.

Pattern layering is an aesthetic approach
Rowabi suggests that you should be flexible in combining patterns, but make sure they match concerning design as well as color. You can blend stripes with flowers, or checks and plaids to create an amazing eclectic style.
Patterned rug
A patterned rug has an artwork or design on its outer layer. These patterns come in a variety of forms and color schemes to complement diverse home themes, ranging from basic geometric shapes to detailed, ornate patterns.

A patterned rug features artwork or a pattern on the surface
Patterned carpets are a common option for interior design because they can provide a space of visual flair, texture, and expression. They can be utilized to describe a space, establish a focal point, or improve the room's overall decor.
Wool, textiles, synthetic fibers, and organic alternatives are just a few of the many materials that may be used to create pattern rugs.
Greenery
One of the simplest and most efficient methods to bring greenery to dark gray farmhouse living rooms is by adding indoor plants. Options for your landscaping should include cacti, pothos, snake plants, and fiddle leaf figs.
Let's put them in rattan baskets or attractive vases to fit the farmhouse design. For brightness and scent in your rustic environment, you can arrange fresh flowers in vases or Mason jars.

You can arrange fresh flowers in vases
Light and airy
In a gray modern farmhouse living room, creating a bright and airy space consists of maximizing natural light, utilizing an impartial color palette, and picking the correct materials to create the sensation of openness.

You can begin from scratch by renovating the walls
You should begin with a clean slate by repainting the walls in pure white or soft, neutral colors. Then, huge windows allow the sunlight to freely move inside the rooms. If feasible, you can decorate the ceilings with exposed beams to heighten the sensation of spaciousness.
Vintage decor
To make your light gray modern farmhouse look more unique, one thing you should do is mix historic fabrics into the decor, such as grain sack cushions, and old quilts.
Moreover, you can choose antique light fixtures such as chandeliers or rattan pendants to give a genuine retro touch to your space.

One thing you have to do is use vintage fabrics
Brass details
Cabinet pulls and faucets in brass give an elegant but stylish contrast against rustic components. Brass light fixtures become eye-catching focal pieces, emitting a gentle, warm glow that matches the farmhouse vibe.
This element, whether in the shape of mirrors, frames, or simply vases, also provides a vintage appeal and beauty for the space.

Brass cabinet pulls provide an appealing but sophisticated accent
You can create a beautiful combination of traditional and contemporary by carefully selecting and arranging brass touches throughout your current space. This factor will help to give depth, nature, and a sense of opulence to your home.
Some concepts with gray modern farmhouse living room
Creating a gray modern farmhouse living room demands finding a balance between trendy sophistication and the classic appeal of rustic minimalism. In this interior design concept, let's look at a few important concepts for creating a home of gray.
Grey modern farmhouse living room couch
Choosing the ideal couch is crucial in the gray modern farmhouse living room. It is the foundation of both convenience and fashion, fusing the chic charm of gray with the traditional embrace of farmhouse design.
Whether it be a calming light gray or a deep charcoal, the sofa should embody the room's color scheme.

This style is the basis for both comfort and elegance
Moreover, the fabric you select for your couch ought to match your lifestyle needs and preferences. It also needs to be durable whether it's linen for a more casual feel or velvet for an appearance of luxury.
Grey farmhouse living room sectional sofa
A shaded gray farmhouse space with a sectional sofa seamlessly combines comfort and flair to provide a welcoming atmosphere where tranquility and rustic elegance coexist. The sectional benefits from having a backdrop of various hues of gray, which makes it the center of attention in the space.

With its broad seating, a sectional provides versatility
A sectional offers adaptability and warmth with its generous seating and modular construction, enabling both groups and quiet evenings. Moreover,  it is also perfect for lounging with a book, entertaining guests, or just taking in the peace of your living room.
White farmhouse living room window blinds
The choice of draperies for windows has a big influence on the overall look. This will provide a clean and timeless style that matches the light and airy ambiance of the space.
They act as a backdrop for the natural light that affects the room. Hence, you can easily manage the level of brilliance and privacy.

This will offer an uncluttered, timeless look that complements the light
To keep the gray farmhouse living room vibe, you can use curtains with clean lines and materials that are natural like wood or bamboo. Then, let's arrange white blinds for the windows with light, flowing drapes to create a pleasant and inviting atmosphere
Modern farmhouse living room with grey accents
A gray-accented design offers a balanced combination of sleek design and farmhouse charm. Moreover, gray's neutrality is also a great compliment to the country style's.

A gray design provides a balanced blend of stylish style and functionality
It takes the spotlight over the background of white or light gray walls. You can consider choosing gray accents such as a luxurious sectional sofa, toss cushions, area rugs,...
Gray sectional with white living room table
A gray sofa with a white living space tabletop is an architectural pairing that embodies both modern beauty and ageless serenity. With its subtle refinement, it provides enough seating and a comfortable meeting spot for friends and family members.

A grey sofa is a striking architectural thing for your room
Against this setting, the white living room table also stands out as a remarkable centerpiece, expressing purity and modern flare.
Grey farmhouse sectional sofa with ottoman
One of the great pieces of furniture for the gray modern farmhouse living room is a sectional sofa with an ottoman. This sort of sectional usually has a comfy L-shaped or U-formed design that provides enough sitting for you and others.

This type of sectional is often L-shaped
Moreover, this furniture also blends elegance and usefulness with its comfy cushions, aged wood accents, and farmhouse-style design. Hence, it can make an eye-catching combination of both relaxation and style in your home.
Grey farmhouse living room with rustic coffee table
One gray farmhouse living room furniture that the blog would like to suggest for you is the rustic coffee table. This item produces an enticing mix of modern comfort and vintage appeal. The soothing gray colors on the walls and furnishings instill a sense of calm.

This piece creates an attractive blend of contemporary
The rustic coffee table is a worn masterpiece that supports the area with its organic textures and aged wood. It represents ageless rustic elegance in addition to being a useful surface for beverages and decoration.
Hence, when adding this furniture to your living room space, it can create a warm, welcoming ambiance that is perfect for parties, relaxation, and special times with those you love.
Conlusion
The article has shown you all of the characteristics and concepts you can apply when decorating a gray modern farmhouse living room. Before creating this style, you should take notice of the pattern, colors, and textures of items.
They will help you a lot in generating the right mood and tone for modern farmhouse design. Rowabi hopes that this article is helpful for you!

Read more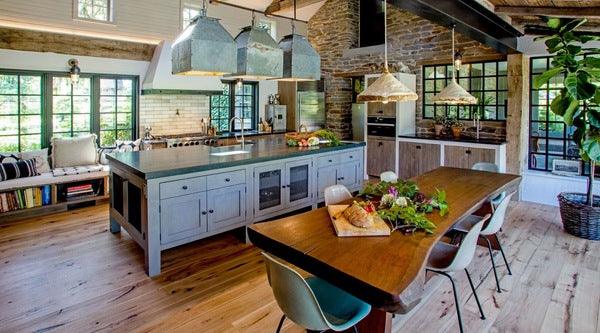 Rustic modern farmhouse kitchen
Rustic modern farmhouse kitchen is becoming a more popular interior style in every house. This style blends the traditional farmhouse style with modern, contemporary elements, which creates a comfo...
Modern farmhouse design has caught the hearts of both homeowners and architects in recent times. The intriguing blend of traditional and contemporary elements in this style is more than a fashionab...
Embrace business opportunities that are low-risk and timely. Right now!