Modern farmhouse bathroom
Written by Henry Phan
Update

In recent decades, modern farmhouse bathroom has become a favorite decorative style among homeowners for its casual, liveable feel. The harmonious combination of traditional country elements and contemporary design features will create a warm and inviting space.
If you are looking for an idea that is cozy and rustic-inspired to renovate your bathroom, keep reading this post because Rowabi will provide you with some excellent ideas below.
What's modern farmhouse bathroom?
Modern farmhouse bathroom is a harmonious combination of two contrasting decorative styles to create a rustic and charming space. One is homely, cozy and inviting while the other is cool and minimal. The farmhouse-style bathroom ideas are inspired by many different adoring types such as minimalist and Scandinavian.

Modern farmhouse bathroom has recently become increasingly popular
To bring this style to life, it is about incorporating modern colours, shapes and materials with the rustic warmth of antiques and dilapidated wood and hand-hammered metal.
The great combination of a traditional and rustic tin bath, modern brassware and poured concrete basin, and large format modern tiles offers your house the simplicity and cleanness of a modern style and rustic touches for welcoming warmth.
What makes a bathroom farmhouse
The modern farmhouse-inspired bathroom has been a favorite decor style for its contemporary, alluring and rustic aesthetics. Below are some typical design elements that are often found in a modern farmhouse bathroom.
Natural materials: Untouched wood is a popular selection for bathroom modern farmhouse decor and is often utilized for flooring, walls, and even as an accent piece. The rustic elements add cosiness and texture to the space and help create a connection to nature.
Vintage accents: Vintage accents can add character and charm to the bathroom and give it a unique personality. Antique mirrors, vintage artwork or photographs are often used as a focal point or accent piece. Vintage-inspired curtains, towels, and rugs are also great options to add a touch of texture and personality to the space.
Neutral color palette: The typical color of a modern farmhouse bathroom is a neutral color palette of white, beige, and gray. This soft color helps create a clean, fresh vibe that is both soothing and timeless.
Shiplap walls: This classic farmhouse look is a common solution for bathrooms. These classic walls add texture and rustic touch to the walls.
Farmhouse-style sink: A farmhouse pedestal sink, is the perfect finishing touch for this kind of bathroom. It can have a large, deep basin and a distinctive, exposed front that adds a touch of charm and character to the room that is unique to the modern farmhouse style.
Vintage lighting: Beyond the purpose of lighting, vintage light fixtures or lanterns can enhance the rustic elements and create a warm and welcoming atmosphere in a farmhouse style bathroom.

The neutral color theme brings a contemporary vibe to the space
15+ Idea for the best modern farmhouse bathroom
Create your own dreamy modern farmhouse bathroom with several inspirational ideas below.
Use reclaimed wood
The key design element in the farmhouse bathroom is rustic and simple aesthetics. Exposed and reclaimed wood makes your modern bathroom feel softer and highlights other decor items in the room.

Untouched wood adds cosiness to the space
You can use the natural material for wood flooring, ceiling beams, lighting fixtures, and as a frame surrounding mirrors to add cosiness and texture. The decor items made from untouched wood will be a signature statement piece in rustic farmhouse bathrooms.
Add black accents
Adding a touch of black is an ideal approach to create vivid contrast, sophistication, and elegance in modern farmhouse bathrooms whose typical color theme of neutral. Black accents will add punch and a modern edge to the space as well as give a glamorous lift to an all-white room.

Black accents create a strong statement for bathrooms
You consider using contrasting matte black vertical tile walls against brilliant brass fixtures to make a dramatic statement for your modern bathroom. Black-framed shower doors made from aluminum or steel are an excellent way to add a charming look.
A monochrome palette featuring sleek, dark wood vanity drawers or wall-mount faucets with vessel sinks brings your white modern farmhouse bathroom an elegant aesthetic.
Spring for a vintage tub
Vintage tubs are a current trend and are an excellent piece to add a rustic and charming vibe to any modern farmhouse bathroom. A deep, classic tub can add instant elegance and style while also providing a relaxing spot to soak and relax. If your bathroom is spacious, consider placing the bath in the center of the room as an emphasis, rather than against a wall.

A vintage tube is a perfect decor item for farmhouse bathrooms
To make the space more convenient, warm and in texture, you can consider adding a rustic vanity and cabinets for bathing products. Additionally, graphic tiles and contemporary wood paneling are fantastic items to upgrade the look of the space.
The seamless blend of natural material and contemporary fixtures will create a wonderful relaxing modern farmhouse bathroom to unwind after the end of the hard-working day.
Try taupe walls
Taupe walls are a good idea for any modern farmhouse bathroom due to their timeless, contemporary, minimalist beauty. Taupe is a great neutral colour that will seamlessly blend with any existing decor. Plus, its contemporary look makes your decorative pieces stand out.

Taupe walls bring a timeless, contemporary vibe
Taupe is a combo of beige and gray, which can be taken in different proportions, so you can change this proportion to create your desired color theme. You can consider adding some pops of color with accessories or art to accentuate the walls.
Finally, select fixtures and finishes that will blend well with your taupe walls. Rustic wooden cabinets and subway tile floors are a great approach to make a statement for your rustic farmhouse bathroom.
Incorporate antiques
Incorporating antique elements is an excellent idea for adoring your modern farmhouse bathroom. Antiques give the space timeless elegance and a sophisticated appearance that is sure to impress anyone who sees it.

Antiques are great additions to modern farmhouse bathrooms
The antique components come in various simple and understated designs, making them perfect decorative items for homeowners to add their personality to the farmhouse-inspired bathroom.
You can try to utilise vintage porcelain sinks and faucets as a special addition to the bathroom. An old, traditional cabinet is also a great option for this style. No matter what you decide, you need to make sure it complements the remainder of the design of your bathroom.
Hang some wallpaper
Wallpaper is a great way to spruce up your bathroom modern farmhouse decor without having to spend a lot. Add to that, a variety of beautiful farmhouse-style wallpapers are available these days, offering endless options to choose from.

Wallpaper makes the space more attractive
Common designs are abstract prints and geometric patterns. They both have a sleek, contemporary appearance that would effortlessly brighten any bathroom. Traditional designs such as floral prints or simple stripes are perfect to bring a rustic feel to the space.
Aside from design options, the modes of installation are also various. You can select the conventional method, peel and stick, and many more. With the diversity of designs and installation methods, you can find something that perfectly suits your style.
Add some color
The modern farmhouse bathroom tends to be simple with a neutral color palette such as creams, whites or beige. Although these colors bring an inviting, relaxing, and calming feel to your space, adding visual interest, contrast, and depth with texture is essential.

Green items are a great statement of the space
Color accents with rich greens and blues are an ideal solution to make a statement. You can consider adding a bold tile design to enhance rustic elements and fuse modern and traditional styles. Without a doubt, this is one of the best small ideas to make your white modern farmhouse bathroom interesting because you don't need a lot of materials and much space for renovation.
Use rustic materials
Rustic materials are an excellent approach to adding warmth and character to your modern farmhouse bathroom. The common materials are wood, stone and metal. Untouched wood is a great choice for rustic bathrooms for its sturdy ability and natural look.

Rustic materials make the space inviting feel
It can be used for flooring, walls, and even as an accent piece. Stone is another great choice that can add texture to the space. It provides a unique and luxurious look perfect for rustic modern farmhouse bathrooms.
Another way to introduce rustic elements to your modern bathroom is through the use of metal accents. Black iron or brushed nickel fixtures add a touch of industrial charm that complements the rustic beauty of the bathroom. The use of metal accents for light fixtures or decorative pieces is also a perfect statement for the space.
Add industrial elements
Incorporating industrial elements can add contemporary charm to your modern farmhouse bathroom and make it stand out from the rest. There are numerous approaches to bringing this style to space.

Industrial elements bring a contemporary feel to the space
Concrete floor is a great option to add a modern touch to your bathroom. Plus, this material is extremely durable and withstand all weather conditions. Metal fixtures, subway tiles or an industrial showerhead are other simple options to give your bathroom a more industrial feel.
Repurpose a vintage dresser
If you need a new bathroom vanity but don't want to spend a lot of money, you can consider repurposing a vintage dresser. This is a cost-effective way to add a real rustic and charming aesthetic to bathroom modern farmhouse decor.

Vintage Dresser offers rustic charm to bathroom
With the natural beauty, the vintage furniture is seamlessly blended with modern fixings and fixtures to create the perfect balance. The combination of a beautiful rustic wooden dresser and a worktop basin or modern mixer tap creates the ultimate statement, leaving a strong impression on anyone at first sight.
Repurpose vintage doors
If you have a vintage door waiting for a new life, consider repurposing it as a decorative piece for your modern farmhouse bathroom. Rustic doors are some of the best solutions to add character and charm to the space as well as offer a unique personality.
When applying the doors, you need to make sure that their design and size complement other existing decor pieces and create a cohesive look. In addition, you also consider the material and texture for long-lasting use.

Vintage doors are great bathroom decor item
Accent with dark wood
Decorating your modern farmhouse bathroom with dark wood accents can offer a unique and polished look. Plus, it is a great way to make your furniture stand out from the neutral color theme. Especially, this decor item effortlessly matches with any space style; therefore, you can add any color accent you want to highlight your bathroom decoration.

Dark wood accents add a unique and polished look
There is a huge collection of dark woods with many different types and finishes. Hence, when shopping the adoring item for your bathroom, make sure you find one that matches your bathroom's style perfectly.
Several good selections are oak, hickory, or maple. Additionally, you should pick up a finish that will protect the wood from water damage. Several common finishes available are oil, wax, or lacquer.
Add a gallery wall
A gallery wall is a fantastic way to make your bathroom more personalized, stylish and attractive with minimal effort. Framed art comes in numerous designs and styles, providing you with endless options to decorate your space.

A gallery wall creates a personalized statement
Vintage paintings, prints, and images such as botanicals, nature, or even modern art will be strong statements for rustic modern farmhouse bathrooms. Additionally, showing your family pictures through the years is also a fantastic solution to impress any guests to your house.
Due to the huge number of framed art now, you need to determine your bathroom layout to ensure the gallery wall works well with the remainder of the decor. Size and color are other important considerations when you shop for framed art for your modern farmhouse bathroom. You also combine artwork and some posters, prints to create a distinctive gallery wall.
Shutter the windows
The use of a window shutter is an excellent way to create a private and inviting atmosphere for bathrooms. The simple approach can add a refreshing touch to your space. By blocking out natural light, you can create a relaxing space for unwinding at the end of the day or get a jump-start on a new one.

Window shutter is perfect for refreshing modern farmhouse bathrooms
Window shutters are available in various designs and materials, so you will select the one that suits your tastes. Interior wood slat shutters are the most common option that fits all farmhouse-style decor themes. Furthermore, they are also affordable, so this is a good idea for those who want to update bathroom modern farmhouse decor without breaking the bank.
Focus on the vanity
The vanity crafted of wood sets is a fantastic approach to adding style to your modern farmhouse bathroom. It is available in several models and it can used as a cabinet or vanity.

Wood vanity is perfect for any modern bathroom
Homeowners often utilize it as the primary focal point of their bathroom design thanks to its rustic look. Some models include doors and drawers for storing various items such as beauty products, towels, linens, and more. Some other cover a sink on the countertop for convenient uses.
It is of vital importance to determine the style of your farmhouse bathroom before choosing vanities. Sturdy-looking vanities with white or light cabinets are great for dark flooring bathrooms. An integrated farmhouse sink with vintage fixtures will bring a perfect balance of modern and rustic.
Whatever style of vanities you choose, make sure the style of the fixtures effortlessly blends with other decor pieces.
Tips to choose the right idea for modern farmhouse exterior
When it comes to decorating a modern farmhouse bathroom, it may be a daunting task, especially if you are a beginner. Here are some useful tips that help you select the right one for your space.
Define your style
The first step to creating a modern farmhouse bathroom is defining the specific style you want to apply to your space. Do you want your space to have a contemporary and sleek look or a rustic and charming one? The answer will help you make a final decision and select the right decorative pieces to keep things consistent from room to room.
Consider your location
Considering the location of your bathroom will help you select the right style for your farmhouse bathroom. You should examine the surrounding natural elements, and climate to make sure your bathroom materials are long-lasting.
Architectural features
You need to pay attention to the existing architectural features in your modern farmhouse bathroom to ensure the consistency of the space. For instance, you can consider using vintage decor items like wood, and stone to soften the coldness and uninviting feel of contemporary bathrooms.
Color palette
It is essential to select the color scheme for a modern farmhouse bathroom decor. Neutral colors such as white, beige, and gray are the perfect hues for your bathroom backdrop.
They bring a clean and fresh foundation that allows the rustic elements to stand out. Earthy tones such as brown, green, and blue can add a touch of warmth and a charming look to the space. A bold splash or subtle hint of color will be an incredible spot for your modern bathroom.
Materials
Selecting the right materials that are durable in humid environments is the most vital consideration. Some common selections are wood for a rustic vibe, metal for a contemporary look or marble for a luxurious spa-like touch. You should consider using finishes to prevent wood damage.
Windows and doors
Pay attention to the design of your windows and doors to ensure that they work well with your existing decor layout. Rustic sliding barn doors are the most common selections that harmoniously blend with the rest of the bathroom design. While interior wood slat window shutters are a fantastic choice for most modern farmhouse bathrooms.
Conclusion
A modern farmhouse bathroom with a rustic and timeless vibe is the perfect solution to unwind at the end of the day, or get a jump-start on a new one.
There are endless ways to bring this decorative style to life, from selecting the right color pattern and fixtures to combining harmoniously rustic and contemporary elements. Rowabi's hopes that this post will give you excellent ideas for creating your dreamy farmhouse-style bathroom.

Read more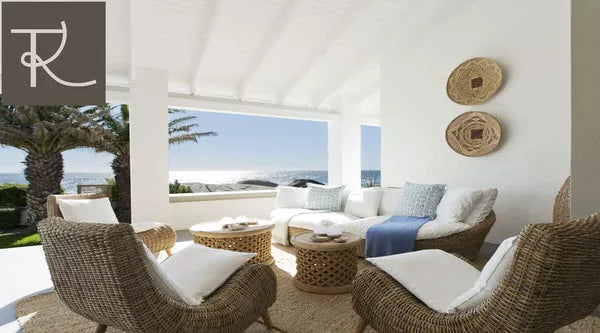 Rattan furniture indoor is an excellent option for furniture pieces that offer comfort, style, and durability. In this article, Rowabi will offer you in-depth insights into this type of furniture a...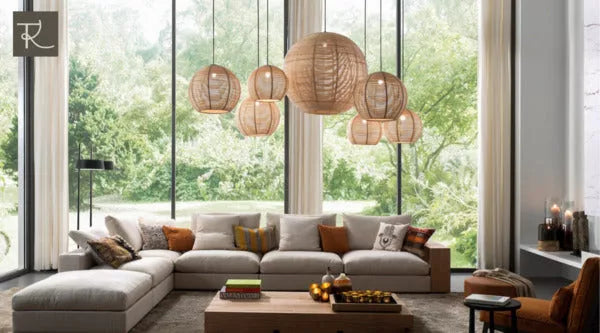 Rattan living room furniture is wonderfully crafted to bring a sense of charm and elegance to your space. Thanks to these items, you can transform your room into more exclusive and stunning to attr...
Embrace business opportunities that are low-risk and timely. Right now!